I arrived at Mactan Airport a bit starved so Ron and I took the cab and while at queue, we were undecided of where to go. I was actually useless because I didn't know the place very much and I didn't bother to help myself with a little of internet research. So when we entered the cab and the driver asked us of our destination, he just blurted SM City. I guess a mall is always a good place to go to, to grab something to eat, especially in a place you are not familiar with.
Ron has worked at Cebu for awhile so he knows some places. We ate at his recommendation, at the Harbour City. It is a Dimsum place seemingly inexpensive luring the people in with orders as low as 45Php. But soon enoughm, you would realize that you would order for more Dimsum and rice so you would end up with bill higher than you expect.
But their food were really great, sumptuous and tasty. We ordered rice with meat toppings, mine is spicy pork steamed rice while Ron got a beef steamed rice. Then we ordered 3 types of dimsums: plain siomai, sweet and sour chicken, and bacon roll siomai. I had mango shake as additional. We ordered for extra rice each in the middle of our feast because I was complaining and enjoying of how spicy my steam rice is. Our feast was lovely and I enjoyed our Chinese food.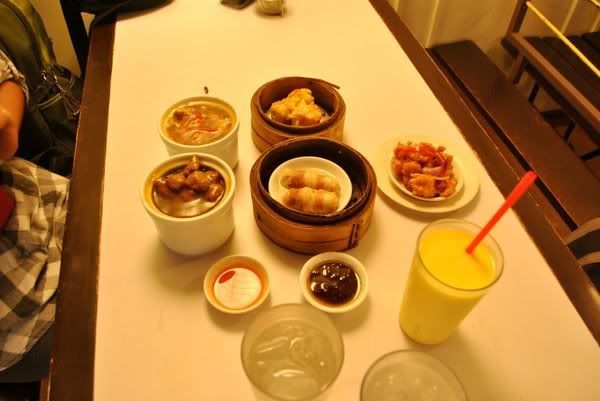 Dimsum Brunch
Harbour City also has a branch at Ayala Center. They may be reached through the number: (032) 231-2284. Enjoy your Dimsum!