The much awaited fight is now over!!!
After a very glorious and short fight against Ricky Hatton, Manny is going home triumphant and the Filipinos are once again joyous especially those who placed their bets for the Pacman.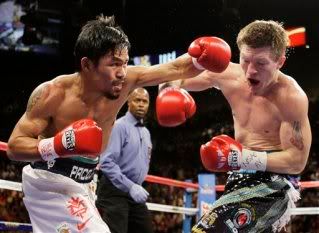 We at Ops have set our bets out against our Brittish bosses, Frank and Tom. We (almost 25 people) have come up with a grand 20,000Php to fight Frank and Tom's ceiling price. My bet of Php500 was included to the pool of amount.
And a week after the bet, I became richer by Php500!!!
Love you Manny! Ang gwapo mo sa pic dito: