I was only about three years old when she was proclaimed National Artists by former President Corazon Aquino. She lives in Tondo, have two children and is married to Amado V. Hernandez. Atang de la Rama, is known to be the Queen of Kundiman and Queen of Sarswela.
Personally, I don't know her nor have I heard about her. I came to watch Dulaang UP's production without reading the synopsis nor reading any reviews. I am totally an Atang-ignorant.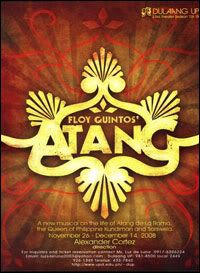 For its 33rd year, Dulaang UP presented Atang, Ang Dulang may Musika. Written by Floy Quintos and directed by Alexander Cortez, Atang showcase an excerpt of the life of Heronata de la Rama or famously known as Atang de la Rama.
The play started during the year when she was to be awarded by the former President Cory as National Artist for the Arts. During that year too, the story of her life will be featured in a film with Gia, an up and rising star to play her role.
Gia, wearing a
terno
(which is very Atang), paid her a visited at her home in Tondo to get to know Atang and to study her so that she would portray her role well. At first, Atang thought that Gia was all superficiality... she's doing the role for the sake of her fame and the opportunity of portraying the legendary Atang de la Rama. Atang thought of it as shallow with Gia not having the heart for what she is doing. As she is trying to mold Gia into her role, reviewing Gia's research of her life, and going through the script, Atang realized that at her age (84 yrs old) it is not rightful anymore to bring up the pasts. She thought that the film will distort events, exagerate stories, and give an unrealistic message to its audience. To Atang, what is essential is her dignity and she give most importance to life's mysteries. In the end, she requested Gia to say no to the producers in doing the film. She asked her not to push through with the movie at all.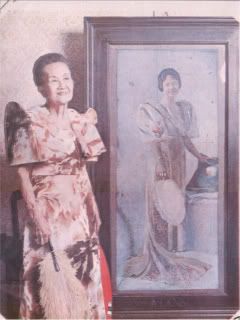 Atang depicts of a star who's light has gone dim and has died. People have forgotten her. But amidst that, she displayed grace and maturity, accepting that her fame and beauty has come and gone. She has enjoyed her fame and adorations long enough to have numerous memories, of which she will always bring with her, mysterious and unknown to her audience.
Once again, Dulaang UP, has not failed to leave its audience imprints as each play gives a concrete message to its viewers... Hep hep Hooray for DUP!!
-o-o-o-
The wife of Franco Laurel, Ayen Laurel, played Gia, and have a very good voice singing all the kundiman popularied by the great Atang de la Rama as she is playing the young Atang too as the old Atang reminisce. The 84 year old Atang dela Rama was played by Shamaine Centenera-Buencamino who is a veteran in theater.
Sobrang galing niya talaga!!!
Kat and I were actually crying at the end of the play as she reminisce her past and how much she wanted to preserve her memories. Joining the cast too is Bituin Escalante appearing as the Queen of Vaudeville, Katy dela Cruz.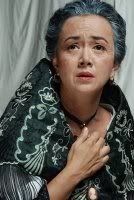 In the house too, was Franco Laurel, doing the pre-play rules and advisories. hehehe!!! Stage husband? Spotted too was Cris Villonco with Nicolo Manahan sitting side by side (Gossip girl, ikaw ba ito?!?!).