Our only intention was to watch Little Women but ended up with a weekend full of unplanned activities and splurging on the whim.
I had myself picked up by Kat at the office and we drove all the way to Greenbelt 1 in Makati. It was a long drive with heavy traffic because of the festive season. Good thing we left QC early, we arrived just 15 minutes shy of the play time. We met up with another play buddy, Tina, and spent the fifteen minutes on devouring food from our pre-play place, Wendy's! Good thing we didn't choke.

Preparing for Little Women. Tina, Kat and I.
Little women was a stellar play! The ladies who portrayed the March sisters were really into character, all of them gave justice to their roles. I have watched the movie of this so I have a hand of how they were and understand the plot very much...but surely, the play was even more splendid! And singing was superb!
After the play, we searched our way to the Ayala Triangle Gardens hoping for deserts and photo ops having read one blog about how festive the place is especially with the inviting lights of the season...but was dismayed that the place closes at 10pm. We were there around 11.
So to fulfill our craving for sweets we decided to hit the ever reliable party place, Eastwood. I was not up to drinking really, just good food and good talk so we decided to go for Starbucks but found the place so jampacked!!! It was as if everybody was there! After deciding to transfer to Starbucks, Petron, we passed by a Massage salon and out of nowhere Kat and I just decided to have an upper body massage! oohhhh la la for a spending spree!!!

Kat and I at Solemates
After falling asleep at the massage salon and paying our dues, we decided to hit good ol' McDonalds to give in to our cravings....but temptations have been ready to lure us away... we were again on shopping mode when we passed by tiangge after tiangge... we bought accessories and ooohhh!!! espadrille from none other than my officemate, Ma'am Mine!!! I have been meaning to order one from her because she is from Liliw, Laguna yet we planned on it for next year and not buying off the rack!!! but for the love of shoes, Kat and I had one pair each but of different colors.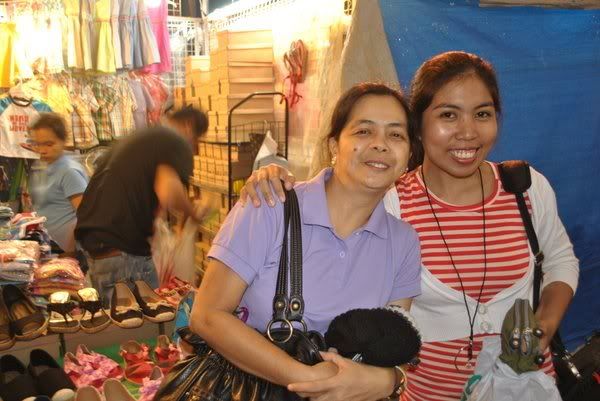 With Ma'am Mine. Espadrille in the plastic bag.
Finally, we arrived at Mcdo and ordered our coffee and desserts. Kat had their very lovable blueberry cheesecake while I got a cheaper nutty brazos. It was heaven even if it is just from McDonald's!!!

My McCafe treat.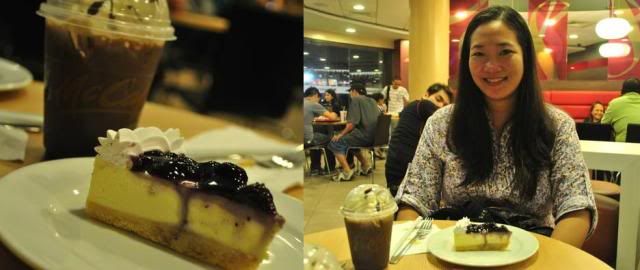 Kat's McCafe treat.
After the treat, we headed for home. Kat had bunked with me for the weekend and the usual us, can't stop talking, we slept at around 5AM. Come the following morning, we started our day 1230PM-ish! Yikes!! We decided to hit UP for a well missed UP specialty of Rodics, Tapsilog but was dismayed that we have to wait 30 minutes for the next batch of tapa to be cooked. Since we our stomachs were aching and doing a riot, we decided to hit Katipunan and tried something new... we ate Buffalo wings at Chilli Wings and although we had our stomachs filled, it was our cravings and expectations left dismayed.... we kept on comparing the flavour and taste with Buffalo Wings and Things so it was surely is a disappointment.


Craziness at Chilli Wings
Next stop was St. Francis for Christmas Shopping.... no more pictures to testify the splurge... we were so focus on finding the best gifts that we forgot to take pictures. Hehehe!!! But i love my gifts especially to my brothers and my nephew.. getting excited on seeing their faces when they open them.
Then we decided to eat at the food court because we don't want to drive all the way from Megamall to Quezon City with an empty stomach. Food again..hahahaha!!! love eating really, aside from plays and shopping, this is one thing that I am not stressed about!!!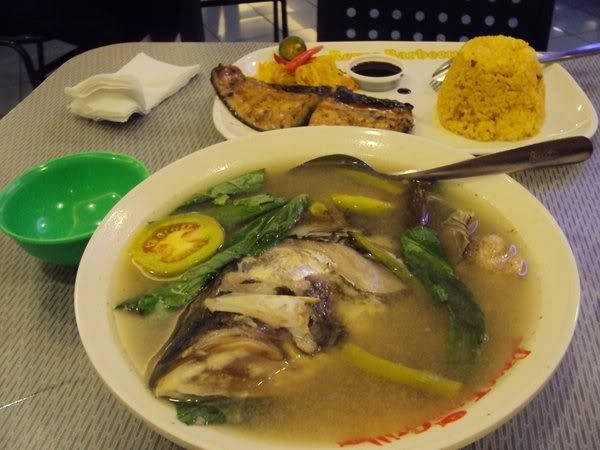 Kat's dinner at the foreground, my dinner at the background.
And so that is our expensive but fun weekend. Hope the expensive part doesn't come often...but fun, we sure want you.