Tom and I (and with the help of Frank) gave Sheena a birthday lunch. Yesterday, I told Tom that we have to give Sheena a treat. The question is how to to ensure that she would be coming in. So I emailed and texted the boss at UK to text Sheena that someone will be coming over to get some important documents and thus she needs to come to work.
I got worried that she didn't came in in the morning. So I emailed her my greeting and reminded her of "Frank's Concern".
It was around 12NN when Sheena came in frantic because she thought she was late of a supposedly meet-up with a visitor. So when she arrived, I went to Tom and we are on our way to pull up the surprise.
Tom said to Sheena, "Cmon, lets go!"
Looking flustered, she was at a loss for words when Tom repeated the same invite. I think that was the only time Sheen felt silent after so being talkative since I got to know her. And then, I approached the two and told her the same thing and that's when she got the idea that there was no meet-up. It was all just a plan.
So we took her to Chateau Verde in UP but found the place closed. So we decided to take the 2nd option which was Dolcelatte.
Nice food, nice desserts, nice ambiance... everything nice!!! and oh! a whole lot of stories from Tom... that is Sheen's 24th Birthday...
Happy Birthday Sheen!!!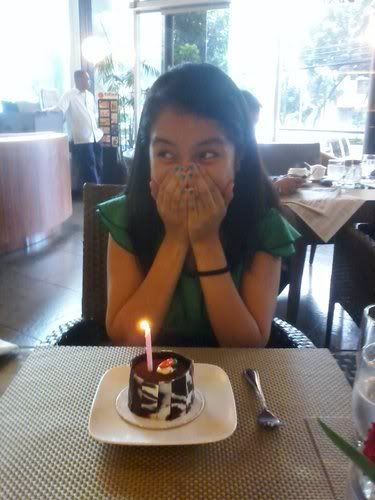 -o-
Poor us, we have to settle with my phone camera because we forgot to bring our cameras.