One of the many things I love about my boyfie is his love for food and his love for cooking up good food. So for our 30th month, I requested that he cooks me his famous tuna carbona.
I was his assistant preparing ingredients and standing close by while he was cooking so somehow, I know his secret. I would like to share his big bite from his kitchen.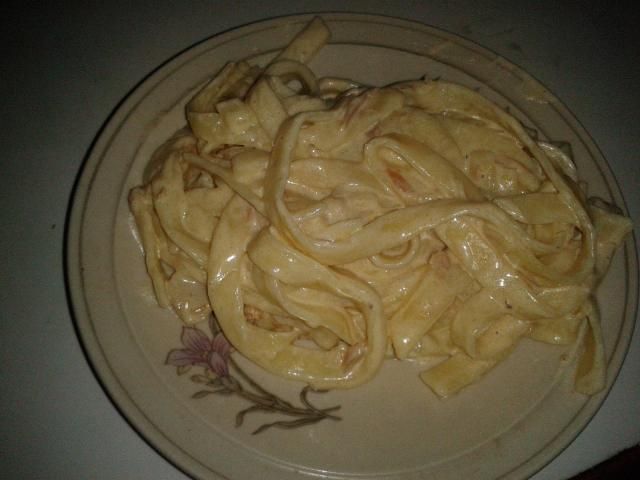 Ingredients
400 g pasta (fetuccini, linguine, etc)
500 ml all purpose cream
250 ml evaporated milk
2 cans of hot and spicy tuna flakes in oil
1 small can sliced bell button mushroom
1 stick butter
Salt to taste
1 big red onions, minced
6 cloves garlic, minced
Optional:
thyme
rosemary
pepper
Cheese
1. Cook pasta according to package instruction. Drain and set aside.
2. Suete onions and garlic in butter. Add mushrooms and saute for another 15-20 min or until mushroom is soft.
3. Add tuna, and cook until light brown. Add salt to add taste to the mixture.
4. Add cream and evaporated milk. Add salt, pepper, thyme and rosemary herbs to add in flavor and taste. And simmer for 5 minutes. Remove mixture from fire.
5. Fold in pasta into the carbona sauce and ensure pasta is well coated.
6. Sprinkle cheese before serving.