Today, I am strutting the Pirates Look. I wish Pirates of the Carribean is still shown in the cinemas, it would have been timely. I would have been setting the trend.
I finally had the time and guts to have my upper eye lid operated. It was actually a minor procedure lasting only for 15 minutes. But an aftermath is a black-eye which my doctor has warned me. I haven't seen my eye yet though although according to my doctor, it is fine if I would take out my patch when I arrive home. But I'll wear the look for awhile...
Yesterday, I had gone to an eye doctor, Jesus Altuna, M.D. who specializes in glaucoma, eye laser, etc. to have my upper eyelid check. I have this small "kuliti" in my left upper eyelid for some months now and I have been postponing my appointment for several time due to work. It was only yesterday that I have the time to see my doctor.
I think Dr. Altuna is one rocking doctor with patients queuing outside his clinic. He was very professional when he had a look at my problem.
As he had free time to do my operation, he scheduled me for a 15 minute date at the Operating Room of Capitol Medical Center today. He is actually cool in the OR joking around with 2 medical attendants who assisted in my operation. and he occasionally involve me in their conversation to ease my worries.
Yes, I got worried. Frantic in fact. It was the first time I went into the OR. Most of my life, I am very well and healthy. So I am terrified to do the operation alone. With no family and friends who I wish are with me (oh yeah, I was trying to be independent and maybe strong), I am doubly frantic.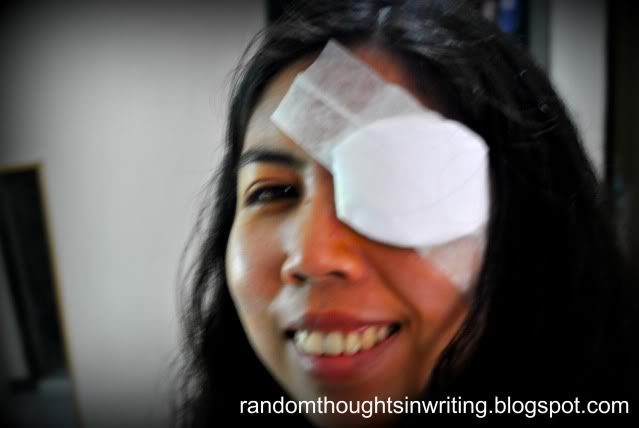 So here I am now, with a patch, proud of all the pain I suffered for about 4 hours now (and probably counting).
P.S. Probably, there are a lot of wrong spellings in this post. Pardon the one eye left to work extra hard to get me by. =)