I have had seen old people cry. When my lolo died, Lola cried a river of tears as well as his sons and daughters. Likewise, family members cried when my Lola died. I have seen old people cry in the movies, tv series because of grief, sadness and all that but is a different story altogether..
But seeing Frank get teary eyed and cry, I can't stand it. Because those tears, I could not name except for longingness for home. He has long been gone from UK and for sure, it has been awhile that he felt estranged. I may be Filipino and belonged to the Philippines but there is that distinct longiness for Bacolod alone which I don't feel in Manila. And I know Frank felt the same way especially with language barriers, lesser familiar faces and family not always around. He has been back and forth to UK but that will never be enough.
Last Thursday, Frank invited Sheena and I to watch the Desford Colliery Band at Brittish School Manila. It was my first time to see a brass band and to hear it for that matter so I was quite excited and very willing when Frank invited me.
When we arrived at Brittish School Manila, I felt very foreign. Ironic because I am still in the Philippines and still in Manila but for a place such as BSM where it all seems like everyone is either white, black or some other asian national, I felt alien. Frank felt like he's home with all the British folks sorrounding him.
So after grabbing some drinks (beer and wine?!?!) and our reserved tickets, we went around BSM looking through the artworks and activities of students.
I am very pleased to see this building, the Rizal building to be in the heart of the BSM!!! Yeay!!
So when the gates open, we were the first to get in for I need good seats for a good photo opportunity and there's little of them because most front seats are reserved for sponsors.
While members of Desford Brass Band were setting up, I approached the stage to take some pictures. And I took this photo of a man and his brass instrument as he approached me. And being a very engaging and friendly people these British folks are, this guy started conversation with me:
Guy: You're here taking photos for somebody?
Me: Uhm, no. Just storing for my own consumption.
Guy: Let me see… (moving towards looking through my camera which I willingly let him see his photo)
Guy: Nah…Could you load it up at Facebook and I'm gonna grab it from there?
Then his buddies went to the stage for their picture taken. Which I took along one of the members. Then Frank approached us and urged me to join them taking my camera away. The usual me, I would easily go and have my picture taken with celebs or any monumental structure, so I stood beside the guys…Then seeing Sheena, I signaled Frank to join me with them. And this, I think started all my disaster for the night.
He was hitting on me!! He was asking if where would I take him after the concert or where we would be after the concert so that he will go there as well. It was a mixture of thrill and embarrassmest so I was respectfully declining while Frank was pushing me to go out since I am available and all that. I was laughing it out while the two Brits are talking and so I slowly went to the instruments to take pictures and when I got back to my seat, I saw Frank whispering to Sheena as if they are conspiring against me….grrr!!!! And Frank said, "You know what he said about you? He said, "She's bloody beautiful! And he gave me this, he said to look you up at Facebook and send him his pictures." He was handing me Frank's calling card with a name Martin Whybrow written at the back. I was just rolling my eyes at Frank but the typical girl like me was all flattered. Hahaha!
So all throughout the concert, Frank and Sheena were teasing me towards the tuba player especially when he looks towards our directions which was a thousand times that night.
So who is this Desford Brassband? I'm not really sure about them as I am a newbie with brass bands and it was only Frank who introduced us to such and that each town or city has their own Brassband and there are competitions among cities. Of course Frank was biased and saying that the brass band from his town is the best.
After doing a little research this is what I have found.
Founded in 1898, The Desford Colliery Band comprises of twenty-five brass musicians with percussion and performs a repertoire spanning Baroque to Jazz, with fine soloists as well.
The name in itself has a rich history. After the Second World War, the band was assisted by the Coal Industry Social Welfare Organisation. Also at that time, most of the musicians were miners, and thus the band was renamed the Desford Colliery Band.
Today, the band has more than 30 championship titles to back its name. Desford has achieved great popularity and success as an ambassador for British Culture and heritage abroad. With a CDs gaining popularity and a TV show, 'The Real Brassed Off' the Desford Colliery Band is a brassband envied by many.
The Desford Organisation is commited to a policy that states that future generations should have access to playing brass band music. To implement this policy, the Desford Academy was set up to promote brass playing to the younger generation.
The band played two sets and it was only the first set that the old man started teary eyed. I was teasing him about it at first and all the more that his eyes well up. But at the end of the first set when I got up to go to the toilet, Sheena followed me telling me she can't stand when somebody is crying. Oh no!! Frank cried when his Indian friends at BSM asked him if he is ok and then tears just fell like a dam broke.
I think the songs are really familiar to Frank, include in that the history of the song, it made him think and long for home. After sorting himself, he went out to the crowd and was back to the jolly man approaching and talking to people mostly from the band.
Sheena and I were in a total hunger. And I was afraid that the beer would get to me fast because of the empty stomach. IT was my second beer during the break. So I decided to buy some ensaymada to just fill me but goodness, it was not a good pair!!! And there was this Brit who even commented on why I have bread and beer which I have to explain why such a sight.
The next set was a bit familiar just because of one piece from the Harry Potter movie. Hahaha!!! But we really don't know if what part of the movie was it played! All throughout the new set, I was glancing towards Frank checking if he is crying or maybe there is a sense of familiarity in the songs that the band played. I'm afraid that he will cry again and I just don't know what to do…
Frank is not the typical guy… he cries whenever he feels like crying. Machismo is a taboo. Maybe being old gives one an excuse to be emotional. Afterall, you no longer impress the oppositee sex. But then again, strength is tied with respect and awe for another. Strutting a weaker side like crying will surely have others give you a questioning stare. But for the old man, my respect and wonder is intact.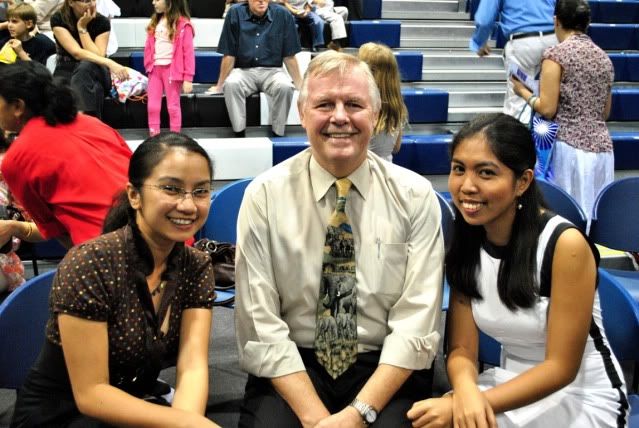 Sheena, Frank, and I