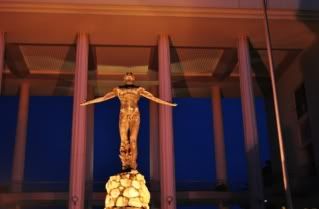 By Cate de Leon
Philippine Daily Inquirer
"OVERHEARD AT..." ONLINE groups are sprouting in the Internet, particularly for schools and universities. UP students created their own Overheard group on Facebook, with a Filipino title that aptly represents UP culture.
The group was started by Christian Rillera, a Political Science graduate of UP Diliman now taking up Law at Ateneo. Created last February 19, the group now has over 12,000 members.
From these "Overheard" groups, we see the unique character—and humor—of each university, sometimes so unique that outsiders can't get the jokes.
But if you read closely, there are lessons to be learned from browsing through UP's Overheard site.
Lesson 1. Survive


It is a must for students to acquire basic survival skills at UP. Like how to tell the jeepney driver to stop at one's destination. This rather unfortunate girl couldn't get down and missed her stop because she kept telling the driver: "Mama, stop!"


Lesson 2. No sleeping in class


A certain Asian Civilizations professor suddenly went "Shhhh..." mid-lecture and pointed at the students who were snoozing at the back. He gestured for the rest to quietly tiptoe out of the room—and then he dismissed the class.


Lesson 3. Believe in a God


No matter how liberal UP students may seem to be, they still need God. As a certain dormer's to-do list put it:

English 12—Read photocopied readings!

Math 55—Homework

Humanities 1—Online conference with group mates.

Engineering Science 11—Pray!

A certain Philosophy professor was also quoted: "I've chosen to believe there is a God because it's strategic. If it's true that there is no God but I believe there is, nothing's going to happen to me. But if I don't believe and it just so happens there is a God, patay ako."


Lesson 4.

Study


Don't be overly confident about your brains and abilities just because you go to one of the top universities. As one student said:

"In Math class, our professor had a frown as he distributed our exam papers, with most of us having failed the exams. One classmate rushed into class, late. He was wearing the famous 'I think, therefore I am from UP' T-shirt. Before he could sit, our professor walked up to him, handed him his failed exam and said: 'Mr. ____, this is your exam. May I request you to go home and change your shirt? Lalong umiinit ang ulo ko!'"


Lesson 5. Be discreet


Never ever talk about your professors in public. The same goes for plans to cut class and all other manifestations of laziness.

Computer Science students were checking out who was assigned to handle one of their higher Math classes. One student started to pray out loud: "Sana hindi si _______! Sana hindi si ______!" as she checked the list of classes posted on the bulletin board. Then she shouted and cursed. When she then turned around, there was the professor before her, a huge grin on his face.

Also, there were these two classmates who saw each other from across the street. One was feeling lazy and told the other aloud that he had no plans of going to class that day, because the venue had been moved to a farther building on campus. He even tried to convince his classmate to cut classes as well, saying: "Wala ding papasok dun!"

Suddenly, from behind the lazy student came the professor's voice: "Nandito kaya ako!?"

Christian, the site creator, also shared how he once got into a jeepney to get to his Math class and absently told his classmate: "Wala namang kwenta pumasok ng maaga eh, lagi namang late si Sir."

When they got to the Math Building, he saw his professor alight from the same jeepney. Later in class, his professor went: "O ayan Mr. Rillera ha. Maaga ako ngayon. Baka kung anu-ano pa ang sabihin mo tungkol sa akin sa jeep."

However, some professors are simply quotable, their pronouncements too good not to be repeated.

Prof. Solita Monsod, more popularly known as Mareng Winnie, began the first day of her Economics 11 class by saying: "Anyone who calls me Mareng Winnie in this class gets a 5.0."

Then there was the student who told his professor, "Sir, 'yung buhok niyo po magulo." The professor replied, "Bakit kay Edward Cullen pwede, sa prof niyo hindi?"

Another student was worried because he didn't get his parents to sign what he needed for class. His professor said: "Bahala ka. Ikaw, i-forge mo. Basta ba hindi ka idedemanda ng nanay mo eh."

Still another student was secretly reading manga in class when he realized his professor was right behind him. He nervously turned around, prepared to be reprimanded. Without taking his eyes off the monitor, his professor went: "Patay na pala si Jiraiya no? Kawawa naman."

A clincher: A speech communication professor was wrapping up her discussion. "So class, let us refrain from being redundant whenever we speak." She paused. "Ok?" She looked to the left. "Am I clear?" Then to the right. "Do you understand?"


Lesson 6. Know why you're in school


No matter the fun and hilarious college life, we must all remember that our primary reason for going to school is to learn. As English 30 professor Rhodora Ancheta put it: "Don't mind my arm fats jiggling when I write. Mind what I write!"