Insanely Wicked. That is Wicked Kitchen for me. After finding a feature of the resto in Click the City dot com, I was intrigued. And was uberly excited about it, I couldn't pass the week not to go here.
Why wouldn't anyone be? All of the desserts in the menu are named after the 7 Deadly Sins: Anger, Pride, Sloth, Lust, Envy, Greed and Gluttony. And this is not the main course yet.
Kat and I ordered the combo meals which is served with an ice tea. What's good about it is that you get to choose from 4 pasta and then pair it with a choice of chicken entrees . We also got a piece of garlic bread and salad. Both of us got Wicked Wings and paired it with a pasta of our desire. Kat chose Chicken Mushrooms Cream while I got Seafood Aglio Olio.
My Verdict: 5 stars.
The pasta is not soggy and is al dente... Seafood Afglio Olio is fetuccini with olive oil, garlic and some herbs (I think it is spinach) with a mix of shrimps and squid. It isn't salty but you would continue diving in. The Wicked Wings is awesome! There is a fire-y kick. I don't fancy hot and spicy food but this one is getting me to rethink. One thing I need to commend is the salad (lettuce). It is sweet and fresh. Kat thinks it is dipped in honey or syrup.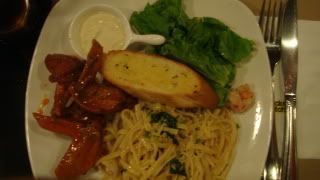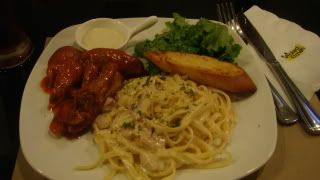 Came in our dessert: Kat ordered Envy while I ordered Gluttony (which is their featured dessert in their menu).
Verdict: 5 stars
If we jokingly tell a person that he'll forget his name because of how delicious a food is, this is the truth of it. As Kat says, Envy got her speechless!!! While Gluttony had me not want to do desserts for an entire week!
Envy is a super moist chocolate cake frosted with mint green chocolate ganache. It will get you drooling with envy (Tagalog translation: naglalaway sa inggit!) wishing you have this everyday!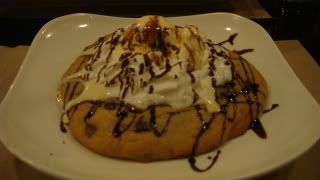 Although price of dessert is the same of that of the main course, I think the superb taste has it justified. 2 Deadly Sins transported me to Heaven!
And now comes the part when I have to whine... of course there are bad points. Service is super bad!!! Awarded nada stars for it!!!! Waiting time for the main course is 30 minutes and we had 2 follow-ups. And then when we requested water to help us with the dessert, we had 3 follow-ups because the waiter keeps on forgetting our requests. When we asked for the bill, it took us two requests!! What is that!?!?!? We even went down to get our change because we were again waiting for entirety for it! But the waiter took our picture so that's something commendable.
It is a pity that service isn't at par with the food they serve. I Hope the pics here gives justice to it!
-o-
I brought home Ex's Lasagna for my brother.... I think his pictures also justified whatever "bitterness" fueled the owner or chef who gave the name to this good-tasting recipe. Those are candid pics of him burping and savoring the food!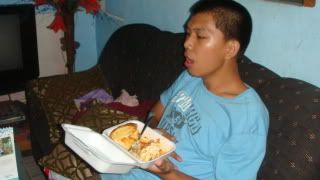 xoxo