For my birthday, I baked my first ever moist chocolate cake... physically disastrous but everyone loved its taste! The day after, we're still feasting!
Moist Chocolate Cake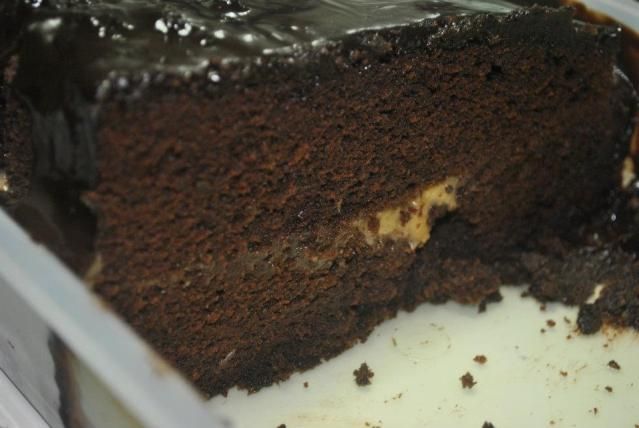 Ingredients:
2 cups flour
1 tsp. salt
1 tsp. baking powder
2 tsp. baking soda
3/4 cup baking cocoa
2 cups sugar
1 cup oil
1 cup brewed coffee
1 cup milk
2 eggs
1 tsp. vanilla
Sift together dry ingredients. Add oil, coffee and milk. Whisk until combined. Add eggs and vanilla. Whisk until well incorperated (about 2 min.). It will be quite runny.
Grease and flour 2- 9 inch round pans. Pour the batter into the pans and bake at 325ºF for 25-30 min until a toothpick inserted into the centre comes out clean.
Let the cakes cool in the pans for 10 min. before removing to cool completely.
For the Ganache
bittersweet/dark chocolate, chopped (amount depending on your preference)
1 pack Nestle Cream
Bring to boil chocolate and Nestle Cream over slow fire.
Let cool to room temp.
Natilla Filling:
1/2 cup condensed milk
1 cup milk
1 egg yolk
2 tablespoons Cornstarch
1/2 teaspoon vanilla
1 tablespoon butter
Procedure:
In a saucepan, combine all the ingredients for natilla filling except vanilla and butter. Cook until thick. Remove from fire. Stir in vanilla and butter. Set aside.
After cooling remove cake from the baking pan. Layer the first cake. Put Natilla on top as generous as you can. Place the second layer on top of the cake. Put icing at the sides and top of the chocolate cake. Make sure that there is